PUMP UP YOUR GREENS: A WEEK OF CELEBRATIONS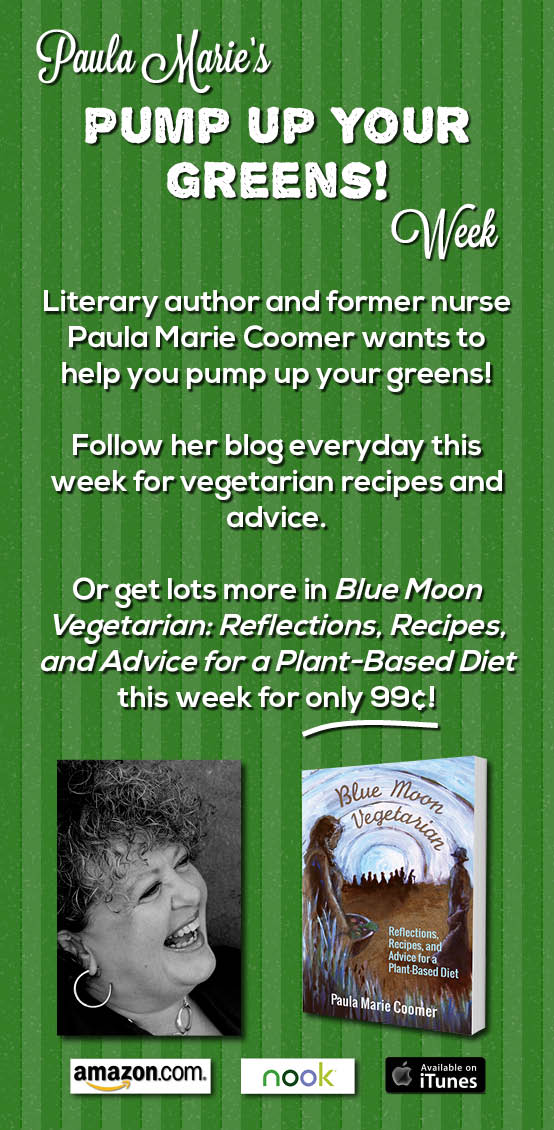 It turns out that every day this week is a cause for celebration. Of course, every day is a cause for celebration, but this week and this month has so many special days, that my publisher Booktrope decided it was a good time to celebrate by holding a big book sale.
What that means is that all week long, BLUE MOON VEGETARIAN is $.99 on Kindle, Nook, and iTunes. Yes, you heard it right:  $.99. You can also get the hard copy at a whopping 20% discount! (Amazon: amzn.to/1ayg6H2   Nook Store: bit.ly/1g7lMMD   iBooks: bit.ly/1izSlSz)
If you've been here already this week, you know that I yesterday's post featured green recipes for St. Patrick's Day—which included Phil's Vegetable Roll-ups, Hot and Spicy Green Beans, and–for the brunch crowd—Brunch Florentine. And that today I included Phil's recipe for "the morning after: Phil's Cocktail and Mellow Yellow Scramble.
I hope you'll stay tuned, because rest of the week looks pretty darned exciting, too:
March 18—Goddess of Fertility Day
March 19—National Peanut Month
March 20—Spring Equinox
March 21—Lent
March 22—International Earth Day
March 23—National Chip and Dip Day
March 24—Women's History Month