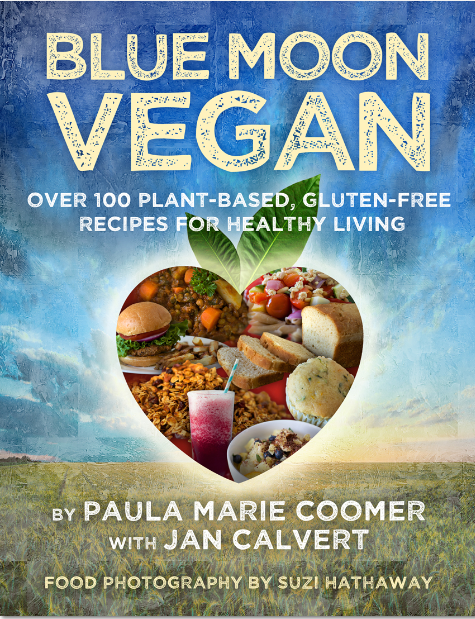 In Blue Moon Vegan, Paula Marie Coomer partners with baker Jan Calvert to raise the culinary bar with over one hundred original recipes, all of which are based on plant-derived ingredients and are also gluten-free. Ranging from luscious side dishes such as "Butter-Dill Salad" and staples like "Paula's Lasagna al Forno" to scrumptious breads, snacks, pastries, and innovative main courses such as "Squash Blossoms in Cashew Cream," these easy-to-follow recipes will inspire both new and experienced vegans as well as omnivores looking to add a few meatless meals to the menu. The book also includes dozens of pages of nutrition and cooking information, based on Coomer's background in nursing, Calvert's experience running her own gluten-free bakery, and their mutual struggle with gluten intolerance.
Beautifully photographed  and formatted for easy use, Blue Moon Vegan is destined to become a well-used favorite for cooks of all persuasions and represents another step along the path to healthy eating which began with Coomer's food memoir, Blue Moon Vegetarian.
Previous praise for Blue Moon Vegetarian
"Blue Moon Vegetarian is a book that will feed all the essential parts of you: your body, your mind, your soul. It's a love story, a health journal, a cookbook, a lyrical memoir—the perfect recipe for anyone who desires to live a deliciously examined life."
–Kim Barnes, author of the internationally-acclaimed novel In the Kingdom of Men
Paula Marie Coomer is a former public health nurse who was raised in the tradition of folk medicine and who for many years has studied the relationship between food and health. A poet and fiction writer, she is also the author of such literary works as Nurses who Love English (poems), and the well-regarded novel Dove Creek, among others. A second novel, Jagged Edge of the Sky, is forthcoming in 2015 from Booktrope. Ms. Coomer lives at the mouth of Hell's Canyon in southeast Washington State and teaches writing at Washington State University. Find out more at www.paulamariecoomer.com.
Jan Calvert is a former high school band director who now owns and operates Bridge Baking Company in Lewiston, Idaho. She has made significant contributions toward raising regional awareness about gluten-intolerance and in helping people transition to a gluten-free diet. Her baked goods are in high demand and are only surpassed by her friendly and caring attitude toward her customers.