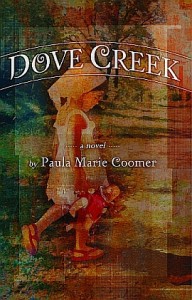 Dove Creek is the story of Patricia Faye Morrison, whose life spans from the mountains of Kentucky to the mountains of Idaho and a nursing job on the Nez Perce Indian reservation. The story chronicles her quest for meaning and identity as she goes about her duties, learning about and recognizing her own heritage in Native American culture. Recovering from a difficult divorce, Patricia frets about raising her two sons and struggles with self-destruction. Her story is one of perserverance and survival as she winds her way through the "Lesson of the Seven Directions," a Nez Perce myth about finding one's way to a true and fulfilling life.
From the back cover:
"Dove Creek is a wise, eloquent, fiercely honest fictional chronicle of a young woman's venturesome journey from her bare-bones Kentucky background to an Indian reservation in the Pacific Northwest. She finds a new life as a much-loved healer—a blonde, female, hillbilly shaman. Paula Marie Coomer writes like a house afire, and her richly variegated novel deserves a prominent place in the literature of the modern American west." —Ed McClanahan, author of Famous People I Have Known, and O the Clear Moment
"Dove Creek is a beautifully wrought novel which tells a tender story of a woman who loved and learned the lessons of the heart from the men and women she nursed on the Nez Perce and Coeur d'Alene reservations of northern Idaho." —Mary Clearman Blew, author of All But the Waltz and Balsamroot
"The split-second decisions that alter our lives, the ancient rituals that save us—in Paula Coomer's Dove Creek, self-destruction and dogged perseverance come together in a novel of intimacy that crosses the boundaries of culture and time. We don't have enough female quest stories, but this is one of them— lyrical in its language, vivid in its detail, important in its observations of the chaos and confusion that come when a young woman lets go of her identity and strikes out on her own perilous journey of self-discovery. —Kim Barnes, author of A Country Called Home
Dove Creek was a featured title at the 2011 Pacific Northwest Booksellers Association Fall Tradeshow.  You can order Dove Creek from your local indie bookstore. Signed copies are available at www.bookpeople.net, www.andbookstooonline.com, www.earthlightbooks.com. Check out Dove Creek's publisher at http://www.booktrope.com. Download an earlier Mp3 audio version at http://audio.krfp.org/dovecreek.html.