HEARTFELT AND PLANT-BASED
Tonight will be the last of a series of sessions about plant-based cooking I've been conducting at one of our great local hanging-out spots—The Blue Lantern Coffee House. Local folks who knew about Blue Moon Vegetarian asked for some instruction, so I stepped up to the plate. I'm a poet and literary author, so you can imagine what a surprise it's been to find myself talking about stocking a plant-based pantry and how to explain to your family about your new approach to eating.
I'm used to having a small but supportive audience for my work, whereas Blue Moon Vegetarian has people changing their entire way of life. It's all very heady and exciting, but I am careful to warn folks that my and Phil's story is only our story, not an edict or even a suggestion. Living the plant-based lifestyle has worked for us. And yes, we still eat potato chips.
As a former nurse, I'm also used to people taking my suggestions in varying degrees, not full-on and wholeheartedly, the way folks are responding to BMV. Some people take responsibility for their health, and some are a little more hesitant. And some of us don't quite believe we deserve even our own attention. I addressed this in a recent article to my subscribers. I'll walk over coals if it means helping another human, but taking time out for activities that might benefit me–such as exercising and maintaining a healthy weight–well, that gene got damaged and mutated early in my life, as I know is the case for millions and millions of us, and, in particular, women.
In short, some of us never really quite learned how to love ourselves.
So I've put together a Valentine's Day menu that is full of love. Red in color like the blood that magically swirls and sustains and so connects us that we can even share it with other humans. A menu so full of love that it is guaranteed to make you fall head-over-heels, not only for your sweetie, but yourself, as well.
(NOTE: Even though Phil and I no longer use dairy products, these recipes were created at a time when we did still use cheese, eggs, and yogurt. We transitioned rather than going cold-turkey. Be careful to use organic products, and, if you can, buy your eggs from a local farmer. Also, please remember that I never recommend brands. I only name them because they are the ones we enjoy best.)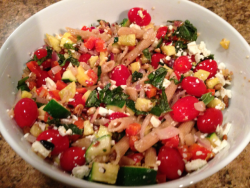 Phil'ʹs West Texas Greek Company Supper
1/4 cup extra virgin olive oil
12 whole garlic cloves
1 zucchini, cubed
1 yellow winter squash, cubed
1 red bell pepper, cubed
1 red onion, cubed
1 pint whole cherry tomatoes
1 pound pennoni rigate
1/2 cup pine nuts
Fresh basil leaves, torn into bite-­‐‑sized pieces
Feta cheese (can replace with vegan versions)
Preheat oven to 350 degrees. Heat oil in oven in glass 9×13 baking dish until oil is very hot. Remove from oven and stir in garlic. Return to oven and bake until you can smell the garlic, about 15 minutes. Add vegetables to oil and garlic and combine well. Bake another 10 minutes or until vegetables just begin to soften. Do not overbake. Meanwhile, cook ziti according to package directions. Brown pine nuts in dry pan over medium heat until toast colored. Place cooked ziti in a serving dish. Pour vegetables on top of ziti. Top with torn basil leaves, then sprinkle with toasted pine nuts and feta. Serve immediately. Keeps well covered in fridge for up to a week.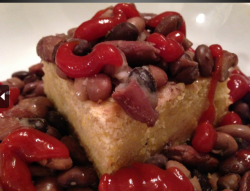 Three-­Bean Cheesy Spoonbread
Beans:
1 cup black beans
1 cup pinto beans
1 cup kidney beans
6 quarts water
1 tablespoon yellow mustard
1 tablespoon garlic granules
2 teaspoons rosemary, crushed
1 teaspoon cardamom
Crushed dried chipotle chilis
Salt to taste
Fresh ground black pepper
Place beans in a large soup pot. Cover with 3 quarts of the water and bring to a boil. Remove from heat and allow to cool. Drain. Return to pot and cover with remaining water. Cook on low heat for 1-­2 hours, until just starting to soften, making sure there is plenty of water to form a juice. Add herbs and seasoning. Simmer on very low heat, covered, for 2-­3 hours. Allow to cool while baking spoonbread.
Spoonbread:
2 cups unbleached flour
1 cup oat flour
1/2 cup cornmeal
1 teaspoon baking powder
1/2 teaspoon salt
1/4 cup plus 2 tablespoons sunflower oil
1 egg, slightly beaten
1 tablespoon agave syrup
1 cup milk
1/2 cup grated Tillamook Vintage White Extra Sharp Cheddar Cheese
1/2 cup melted butter
Stir together flours, cornmeal, baking powder, and salt. Make a well and add 1/4 cup oil, egg, agave, milk, cheese, and the melted butter. Stir, adding water until a thick batter forms. Oil cast iron skillet with 2 tablespoons sunflower oil. Pour batter in skillet. Cook covered, over very low heat on stovetop until bread is firm, about forty-­‐‑five minutes. Place in oven on low broil until golden brown. Allow to set up until completely cool, about two hours or overnight.
Rewarm beans and spoonbread. Use a large serving spoon to lift portions of spoonbread into bowls and ladle on beans. Top with ketchup and hot sauce as desired. Makes 8 hearty portions.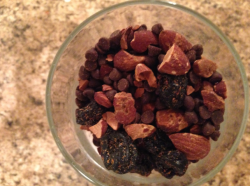 Elegant Dessert Gorp
1 cup dried cherries (we like Mariani brand)
1/2 cup semi-­sweet chocolate chips (we like the Enjoy Life brand; they are organic, gluten-free, and vegan)
1 cup raw, organic almonds
Toast raw almonds at 225 degrees for 2 hours or until the skins just start to darken. Allow to cool, then chop very coarsely. Combine all ingredients thoroughly. Add extra chocolate chips if desired. Makes 10 quarter-­cup servings.