INTERNATIONAL DAY OF HAPPINESS, SPRING EQUINOX, AND COOKIES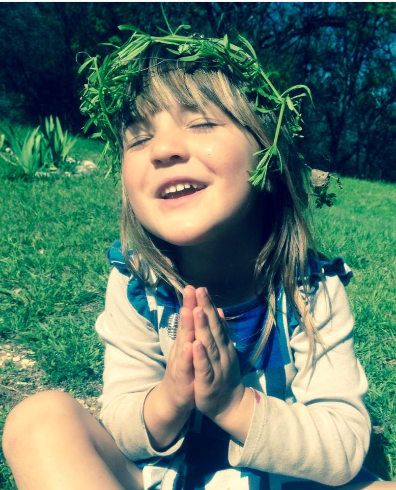 One look at the adorable rapture in this young girl's face and you must have guessed that a post about today being both the International Day of Happiness and the Spring Equinox could be, in the end, only about one thing—cookies.
As curious as I was about National Peanut Month, I could see where people who grow peanuts might finagle a national peanut week that might grow into a national peanut month. One way to raise awareness about a subject in our day and time is to declare a media focus for it via the calendar.
But International Day of Happiness? Who thought that one up? Everyone knows you can't buy or sell happiness, no matter how many advertisements try to tell us it is so. We're a pretty savvy species by now. We know how language and images affect us. We should know: we manage to deflect enough of it.
So who declared today was to be the official happiness holiday? None other than the United Nations, in a resolution dated July 12, 2012, in which the pursuit of happiness was recognized as a fundamental human goal.
Speaking at the U.N. General Assembly that year, Secretary General Ban Ki-moon said that the world "needs a new economic paradigm that recognizes the parity between the three pillars of sustainable development. Social, economic and environmental well-being are indivisible. Together they define gross global happiness." The resulting resolution "recognizes the relevance of happiness and well-being as universal goals and aspirations in the lives of human beings around the world and the importance of their recognition in public policy objectives."
I mean no disrespect, but as much as we are likely to appreciate such a sentiment, you have to wonder what took them so long. We've only been under the clutches of capitalism for how many centuries now? We've only been raking the guts out of our planet for how many decades?
Still, such recognition should be interpreted as nothing but a step forward. And to underscore, here is Secretary-General Ban Ki-moon's proclamation for this year's International Day of Happiness for today, March 20, 2014:
"Happiness may have different meanings for different people. But we can all agree that it means working to end conflict, poverty and other unfortunate conditions in which so many of our fellow human beings live."
Which brings us to thinking about all the many things we humans have in common besides money and possessions–family, friends, hearth and home, and, if we are lucky enough, good health that comes from clean water and air and access to whole and nutritious food. Part of the job our governments now have is taking down those unscrupulous few who are making their money off of keeping us all malnourished and sick.
Which brings us to cookies, which, as we well know, are the uncontested international symbol of happiness. And which also means that I'm very happy to share my favorite version with you, which has an international flair of its own.
Please remember that I recommend using only small-batch, organic ingredients. It is better to enjoy one good thing than a dozen of inferior quality and/or benefit.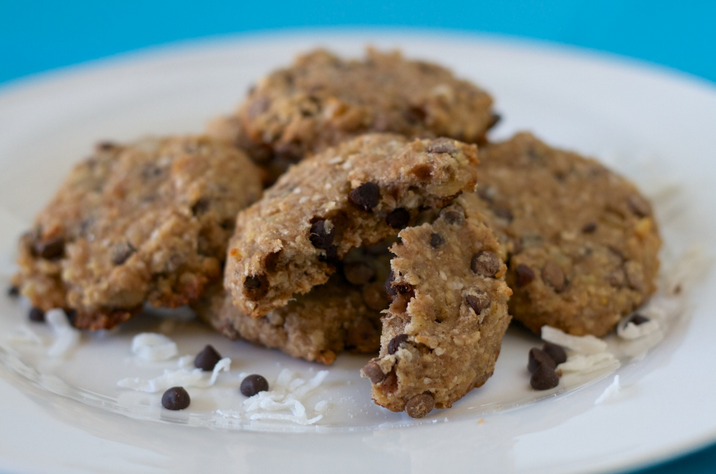 INTERNATIONAL DAY OF HAPPINESS COOKIES
3 large, ripe bananas, mashed
1 teaspoon vanilla
1/4 cup coconut oil, melted but not hot
2 cups rolled oats
2/3 cup almond flour
¼ cup coconut sugar
1/3 cup coconut, finely shredded & unsweetened
1/2 teaspoon high-quality ground cinnamon
1/2 teaspoon sea salt
1 teaspoon baking powder
¼ cup candied ginger, very finely chopped
12 ounces dark chocolate chips (Enjoy Life is my favorite brand; gluten-free, vegan)
Preheat oven to 350 degrees, with racks in the middle of the oven. In large bowl combine the bananas, vanilla extract, and vegetable oil. Set aside. In another bowl whisk together oats, almond flour, coconut sugar, shredded coconut, cinnamon, salt, and baking powder. Add dry ingredients to wet ingredients and stir until combined. Fold in ginger and chocolate chips. The dough will be somewhat loose. Drop a scant tablespoon at a time, an inch apart, onto parchment-lined baking sheet. Bake for 14-15 minutes, or as long as possible without burning the bottoms.
(Photo of child by Andrea Rogalski; cookie photo Suzi Hathaway Photography.)