JAGGED EDGE OF THE SKY–cover reveal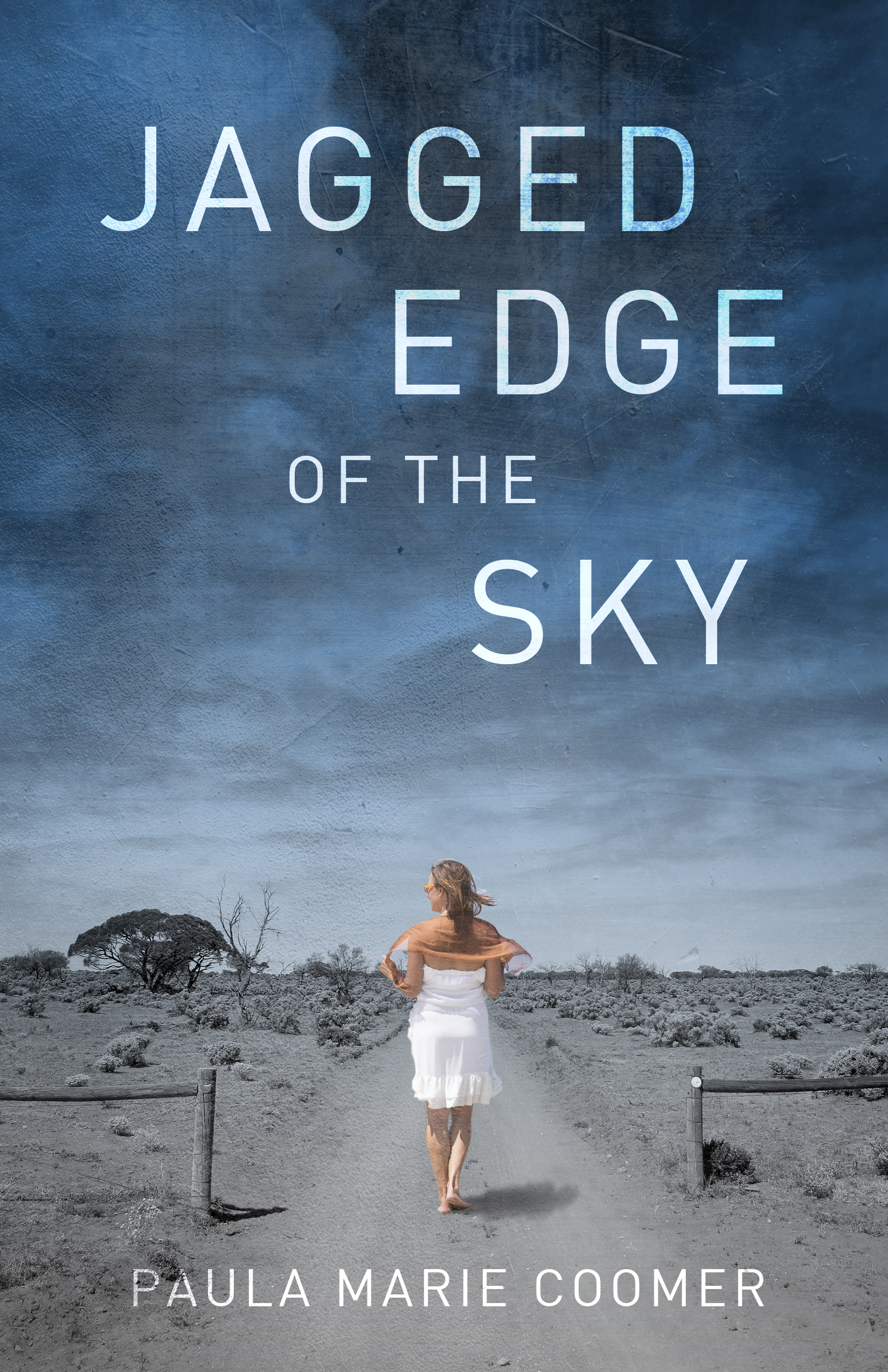 People who don't write books may not completely understand the significance of cover reveal day. To put it into perspective, think about seeing your wedding photo proofs or your house repainted after the contractors leave or a new dress you ordered, or, even more appropriately, being handed that hard-earned college degree.
I would say looking into your baby's eyes for the first time, but that's too much of a cliche.
The first glimpse of a book cover feels miraculous. It hits in the solar plexus. You wonder how did he/she get it so right? Too right, really—so right it hurts? If you have that twinge, that bite of pain caused by the complete and irrefutable knowledge that the artist has rendered your very soul,  well, that's a gift from none other than the cosmos. It's happened with all five books Booktrope artist Greg Simanson has worked on for me.
In this case, Greg had to capture the bleak solitude of the Australian outback, but he also had to find a way to merge it with femininity, as Jagged Edge of the Sky is all about the place where spareness meets feminine desire. It's about mothers bearing and raising children in bleak places. It's about those mothers wanting more. It's about daddies who do what's required of them and those who don't. It's about people having sex with the wrong people. It's about forgiving and moving on—and what happens when we don't. It's about all the life that swirls and continues on the outskirts of those who are in crisis. It's about longing, denial, sacrifice, loss, hope. It's about how we are affected by what we do not know about our own lives.
Set in landscapes as diverse as the sixteen characters whose points of view make up the story, beginning in Australia in the 1950s and progressing toward the 21st century American West, Jagged Edge of the Sky is also the story of anti-heroes, people who go about day-to-day living with little or no expectation for an improved situation. In this way, it's also about making do with what you have. It is about people who have in one way or another, settled in to accepting their self-prescribed fates. In other words, not an easy mirror to gaze into, as it's too easy to see our own complacency reflected back at ourselves from between the lines.
Purchase Jagged Edge of the Sky from your favorite indie bookstore or online retailer beginning March 29. Oh, and if you subscribe to my mailing list (see subscriber list information to the right of this page, or, complete the pop-up) you'll receive an introductory excerpt—all for free!
If you'd like to set up a presentation, book signing, book club discussion , or reading of Jagged Edge of the Sky, contact me at coom1286@hotmail.com or Lisa Nicolle Young at lisa.nicolle@booktrope.com.