JUST IN TIME FOR SUNDAY BRUNCH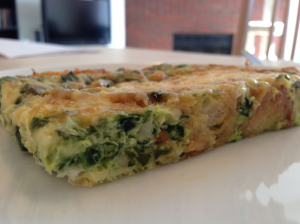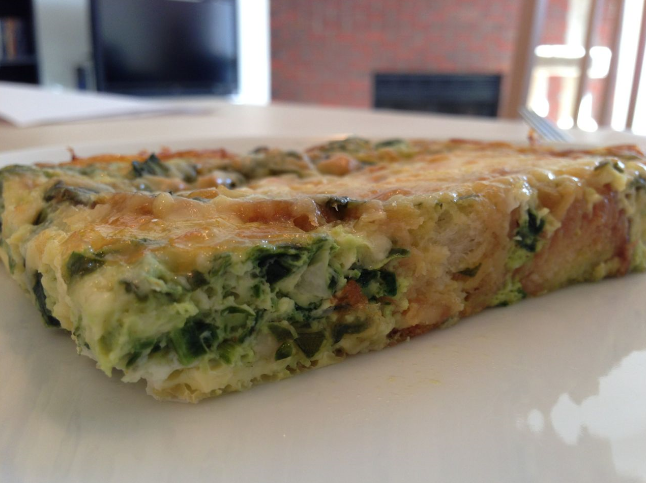 Brunch Florentine began as a newspaper recipe full of sausage and beef. One of my readers has told me she is making a sage-flavored version of Oatmeal-Walnut Burger from Blue Moon Vegetarian and is using it in Brunch Florentine. Perhaps one of these days we'll give it a try. Meantime, this is the perfect accompaniment to coffee and the Sunday paper and is guaranteed to impress weekend guests.
Brunch Florentine
3-­‐‑4 slices 1/2-­‐‑inch-­‐‑thick sourdough bread*
8 eggs, beaten
3 cloves garlic, minced
1/2 teaspoon Tony Chachere'ʹs Original Creole Seasoning
2 cups baby spinach, washed and chopped
1/4 cup green chili sauce
1/4 cup half and half
1/4 cup whole milk
2 cups Tillamook Vintage White Extra Sharp Cheddar Cheese, shredded
Arrange bread in buttered 9×13 baking dish. Mix all other ingredients except cheese and pour over bread. Top with shredded cheese. Cover and let sit in refrigerator overnight. Bake the next morning at 350 degrees for 45 minutes. Allow to rest 15 minutes after removing from oven. Serve with minted fruit salad.
* Bread must be substantial rustic or artisan-­‐‑type bread and should be several days old, not fresh. Grocery-­‐‑store bread will dissolve.