GREEN RECIPES FOR A MEATLESS ST. PATRICK'S DAY
Let me take this St. Patrick's Day opportunity to remind you that GREEN is the Leprechaun secret to eternal youth and good luck!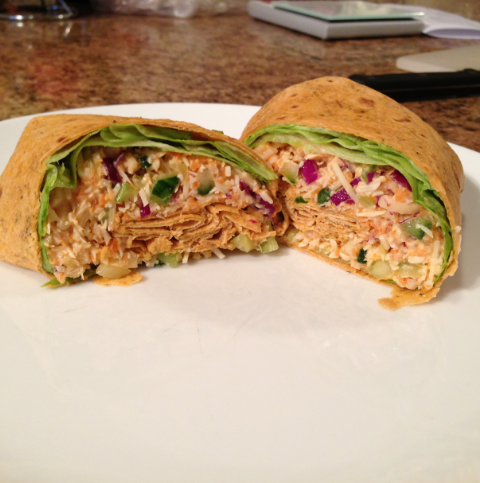 PHIL'S VEGETABLE ROLL-UPS (St. Patrick's Day version!)
Mix the following ingredients together in a medium-­‐‑sized bowl.
1 12-­inch carrot, grated
1/2 cucumber, finely chopped
1 celery stalk, finely chopped
1 cup cabbage, finely chopped
1/3 cup Asiago cheese, shredded
1/3 cup Romano cheese, shredded
1/3 cup Parmesan cheese, shredded
1/2 cup walnuts, finely chopped
Lettuce leaves
Spinach-­flavored tortilla wraps
In a small bowl, mix the following ingredients to prepare the dressing.
1 cup Nancy's Plain Low-­‐‑Fat Yogurt
1/4 cup Best Foods mayonnaise
2 tablespoons Annie'ʹs Organic Horseradish Mustard
1 tablespoon agave syrup
1 teaspoon hot jalapeno pepper sauce
Add enough dressing to the vegetable mixture to moisten it. Save any leftover dressing to thin with sunflower oil for a hot but yummy salad dressing. Spoon vegetable mixture into lettuce-­‐‑lined spinach-­flavored tortilla wraps and roll into burritos.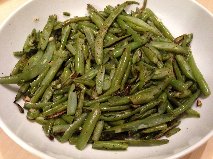 Phil'ʹs Hot and Spicy Stir-­Fried Green Beans
1/4 cup water
1 pound frozen Kirkland Organic Green Beans
2 tablespoons sunflower oil
Garlic granules
Salt
Fresh ground black pepper
Tony Chachere'ʹs Original Creole Seasoning
Heat water in wok or round-­‐‑bottomed skillet over medium heat until very hot. Add beans and cook until water evaporates. Meanwhile, heat oil in a separate skillet. Sieve beans and drop into heated oil, stirring until evenly coated. Cook on medium-­‐‑high heat, stirring occasionally, for 10 minutes or until edges of beans start to brown and crisp. Add liberal amounts of seasoning or to taste. Serve immediately.
And for that hangover tomorrow morning, Brunch Florentine–packed with spinach and a great morning-after cure: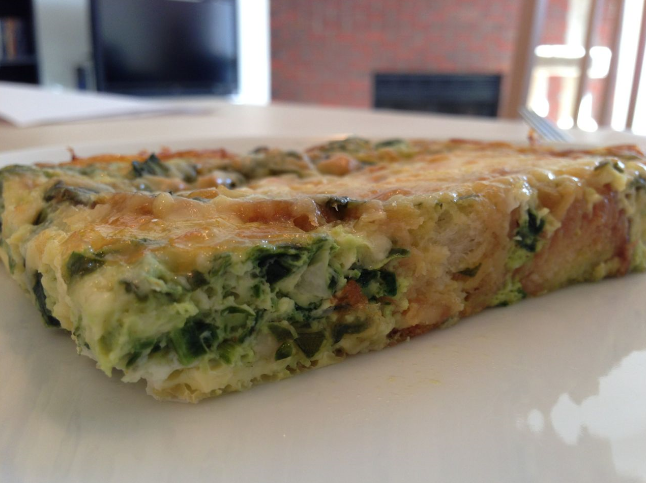 Brunch Florentine
3-­‐‑4 slices 1/2-­‐‑inch-­‐‑thick sourdough bread*
8 eggs, beaten
3 cloves garlic, minced
1/2 teaspoon Tony Chachere'ʹs Original Creole Seasoning
2 cups baby spinach, washed and chopped
1/4 cup green chili sauce
1/2 cup condensed unsweetened coconut milk or half-n-half
2 cups Tillamook Vintage White Extra Sharp Cheddar Cheese, shredded
Arrange bread in buttered 9×13 baking dish. Mix all other ingredients except cheese and pour over bread. Top with shredded cheese. Cover and let sit in refrigerator overnight. Bake the next morning at 350 degrees for 45 minutes. Allow to rest 15 minutes after removing from oven. Serve with minted fruit salad.