RECIPES FOR A SUPER VEGETARIAN BOWL SUNDAY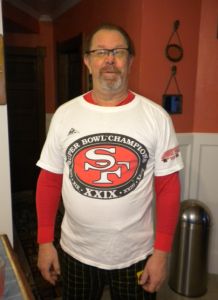 I don't know exactly what happens to Phil when the San Francisco 49ers are in the play-offs. I can only quote myself from an email to my sons last weekend after the 49ers lost to Seattle: mostly living with Phil is like living with Radar O'Reilly from M.A.S.H.
But when the 49ers are in the play-offs, Radar gives way to Godzilla.
That's probably all the description you need, if you, too, live with someone who has a favorite sport team. Anyone who has read Blue Moon Vegetarian knows that I am a phony in that regard. I am a fakir. A football poser. Yes, I did it for love. I did it to convince the man I was living with and wanted to marry that I was THE ONE. I also pretended to like one or two other things, but those are stories for another time.
Which means is that for five months of the year, I have lots of time to myself.
But I will admit to getting vaguely excited during play-off time. I mean, they are muscular men in tights, and I'm not dead yet.
Plus, a couple of years ago, I won $180 in a Super Bowl pool, which made me infinitely more interested in the perks of being an actual fan.
And I will also admit that I have relatively few choices on Super Bowl Sunday if I want to watch the game with Phil–either at home with good food, or allow myself to be squeezed between him and a crowd of men at the local sports pub whose wives misled them in the same way.
Thankfully we lived through a football season during the time we were accidentally writing Blue Moon Vegetarian, so we have lots to choose from. In fact, when we sat down last night to decide which of the book's recipes were the best best choices for the upcoming Super Bowl, we had to do a process of elimination. Since Phil was the creator of many of dishes in the book, they frankly suit what might be termed "masculine expectations" for what good, hearty Super-Bowl-watching, non-fussy food is.
We narrowed it down to 3 (NOTE–please remember I mention brands only when I think that brand is absolutely necessary for the correct flavor, and, also, remember organic always tastes better; as for canned beans, substitute fresh-cooked or use a good brand such as Natural Directions: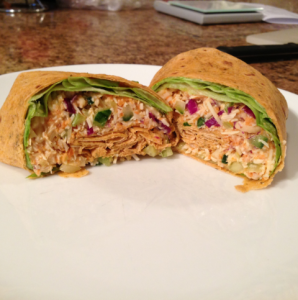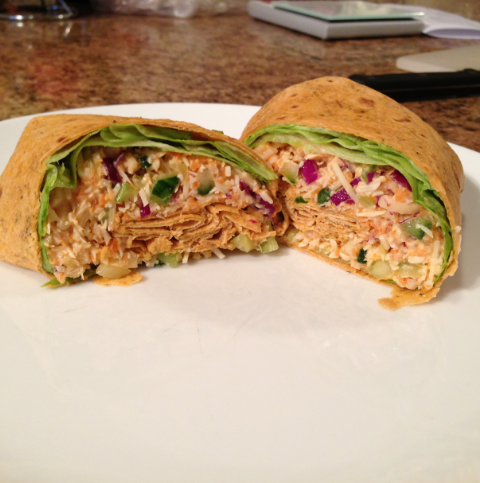 Phil'ʹs Vegetable Roll-­Ups
Mix the following ingredients together in a medium-­‐‑sized bowl.
1 12-­inch carrot, grated
1/4 cucumber, finely chopped
1 celery stalk, finely chopped
1/2-­1 cup red cabbage, finely chopped
1/2 cup Asiago cheese, shredded
1/2 cup Romano cheese, shredded
1/2 cup Parmesan cheese, shredded
1/2 cup walnuts, finely chopped
Lettuce leaves
Tomato or spinach-­flavored tortilla wraps
In a small bowl, mix the following ingredients to prepare the dressing.
1 cup Nancy's Plain Low-­Fat Yogurt
1/4 cup Best Foods mayonnaise
2 tablespoons Annie'ʹs Organic Horseradish Mustard
1 teaspoon hot pepper sauce
Add enough dressing to the vegetable mixture to moisten it. Save any leftover dressing to thin with sunflower oil for a hot but yummy salad dressing. Spoon vegetable mixture into lettuce-lined tomato-­ or spinach-­flavored tortilla wraps and roll into burritos.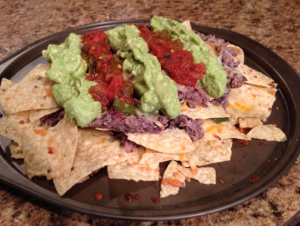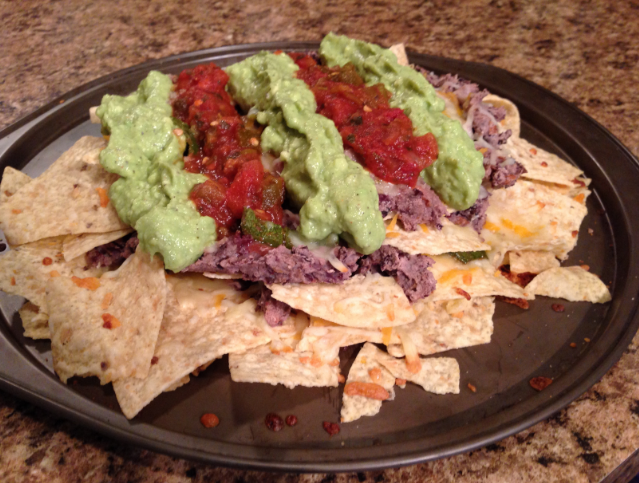 Phil'ʹs Fabulous Three-­Bean Nachos
Guacamole:
4 ripe Haas avocados
1 tablespoon mayo
2 tablespoons plain yogurt
2 tablespoons lime juice
Garlic granules
Tony Chachere'ʹs Original Creole Seasoning
Fresh ground black pepper
Mash avocado with a fork. Blend with yogurt, mayo, and lime juice until creamy and smooth. Add seasonings to taste. Cover and place in fridge.
Nachos:
1 15-­ounce can kidney Beans
1 15-­ounce can pinto Beans
1 15-­ounce can black Beans
1 fresh jalapeno
2 tablespoons butter
1 teaspoon cumin
tortilla chips
medium salsa
2-­3 cups Tillamook Vintage White Extra Sharp Cheddar Cheese, grated
Preheat the oven to 325 degrees. Cook and mash beans in skillet until well blended. Split jalapeno in half, de-­seed at least half, then slice all into 1/4-­inch rings. In small skillet, melt butter and stir in cumin. Add sliced jalapeno, cook five minutes, and set aside. Spread a layer of chips on pizza pan, then top with a third of the grated cheese. Spread a layer of half the beans, then half the jalapenos over the chips and cheese. Add another layer of chips, another third of the cheese, the remaining beans, and the remaining jalapenos, then top with rest of the cheese. Bake at 325 degrees for 10 minutes or until cheese is melted. Top with salsa and guacamole.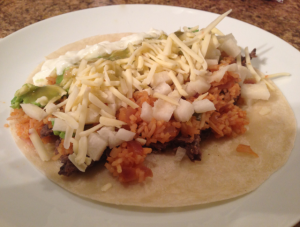 Red-­Hot, Four-­Star, Two-­Bean Burritos
1 15-­ounce can pinto beans
1 15-­ounce can black beans
1 tablespoon sunflower oil
1 tablespoon butter
sea salt to taste
1 cup cooked white organic basmati rice
2 tablespoons extra virgin olive oil
1/2 large green pepper, finely chopped
1/2 red onion, finely chopped
6 cloves garlic, minced
1/2 teaspoon ground cumin
1/4 teaspoon (or to taste) ground red chilis
1/8 teaspoon celery salt
1/4 cup plain tomato sauce
2 cups cold, filtered or spring water
Don Pancho'ʹs Gorditas Flour Tortillas
Tillamook Hot Habanero Jack Cheese, shredded
Nancy'ʹs Plain Lowfat Yogurt
Green chili sauce
1 small jicama, diced
1 avocado, diced
Beans:
Drain beans. Heat sunflower oil in a frying pan over a medium flame. Add butter and allow to melt. Add beans. Mash beans with fork or potato masher and add salt to taste. Fry until beans are heated thoroughly and dry. Cover and set aside.
Rice:
Heat olive oil in a frying pan over medium heat. Add green pepper, onion, and garlic. Sauté until onion is clear. Add cooked rice, cumin, ground chilies, and celery salt, stirring constantly until rice starts to brown. Add tomato sauce and stir until heated through. Add water. Heat over medium heat to boiling. Set heat to lowest setting and cover. Check at 20 minutes. Cook until rice flakes apart with a fork.
Burrito:
Set oven to 425 degrees. Preheat pizza stone. Warm tortillas one at a time on stone. Layer with beans, rice, cheese, yogurt, chili sauce, jicama, and avocado. Roll burrito-­fashion and have a glass of milk close by when eating.