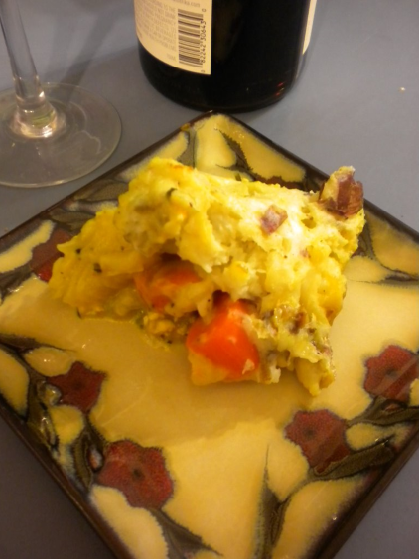 Deep in the caverns of my computer is a file quietly labeled "Blue Moon Vegan 2." Coming from someone who had no intentions of ever publishing a cookbook, that might seem a bit odd, especially since Blue Moon Vegan 1 has yet to be released. Suffice it to say that creating recipes is a habit once developed that cannot easily be rescinded. Once an inventress, always an inventress, I guess.
Last night I was craving something soulful and hearty. Phil had football on the TV. The Christmas parade, mere blocks from our house, was filling the air with all sorts of unusual and jingly sounds. In a word, cozy. The evening just felt cozy, and we were cozy, too. So much so that we didn't want to haul ourselves out for the parade, which we've almost never missed, not in the seven years we've lived together.
I remembered that one of the first gluten-free dishes I had made last winter was a shepherd's pie, but I knew I didn't want anything tomato-y, and I also knew that I wanted a spike of protein. It'd been a busy week of grab-and-go, and I felt I wanted a boost of essential amino acids. And I just happened to have a block of extra-firm tofu thawed. We don't eat tofu all that often, perhaps once a month, but I do love playing with it now and again, just to see how un-tofu-y I can make it. Tofu is tabula rasa, and one thing I'd discovered quite a while back is that a little toasted sesame oil and alder-smoked sea salt makes tofu stand up and talk. In fact, I have made what can only be called bacon out of tofu. Brand new bag of organic potatoes and one of onions in the pantry. New five pound bag of carrots in the fridge. And then the word curry popped into my brain. The challenge was on. I even posted a note to my Facebook wall about what I was trying.
What I didn't expect was that 2 hours later Phil and I would be forking in the first mouthfuls and practically falling over with swooning moans. "This is it," Phil said, "this is the best one yet." OH MY GOSH! We've done a couple of things that have been over-the-top soulful—most recently Squash Blossoms in Cashew Cream, which was so good that I literally begged Blue Moon Vegan's designer and editor to please, please, please stop production and let me add to the book, which they generously did—but Shepherdess Pie, with all of our home-grown herbs and that intersection between them and  the smoky flavors and curry, was far more exotic than anything else I'd ever come up with. The only bad thing is that we stuffed ourselves. It was like it was a holiday. We couldn't stop. We kept going back. A batch that was supposed to have been 3 meals worth is now reduced to 2. We apologized to ourselves (we seriously did) for the gluttony, but it couldn't be helped. We've been out of cooking mode for a while, with all the frenzy and challenges of these past months, and clearly our bodies have missed it. I've been living on peanut butter and toast and the Co-op deli and Phil on pistachios and popcorn and protein shakes. Time to get back in the kitchen.
SHEPHERDESS PIE
Tofu Bacon
1 package extra firm organic tofu, frozen, thawed, drained, and thinly sliced
3 tablespoons toasted sesame oil
3/4 teaspoon alder smoked sea salt
Braise tofu by heating oil and salt on high in large, flat-bottomed skillet until very hot. Drop in tofu slices (be careful of hot splatters) and cook until toasty brown, turning regularly. Lower heat and continue cooking until tofu is very dry and crumbly. Remove from heat and set aside.
Potatoes
3 pounds Yukon Gold potatoes
1/4 cup vegan butter
1/3 cup+ unsweetened coconut milk
1 teaspoon sea salt
1/2 teaspoon cracked black pepper
Wash and quarter potatoes (leave skins on). Rinse thoroughly under cold running water to get rid of excess starch.  Place in 4-quart kettle, cover with filtered water, and boil over medium heat until just fork-tender (about 25 minutes). Drain and transfer potatoes to mixing bowl. Add butter, salt, and pepper and mash with potato masher until well blended. Add small amounts of milk and continue mashing/blending until thick, creamy, and smooth. Set aside.
Filling
2 tablespoons olive oil
1 large onion, chunked
4 garlic cloves, minced
1/4 cup freshly dried parsley*
2 teaspoons peppercorns, slightly crushed
2 teaspoons freshly dried rosemary*
2 teaspoons freshly dried hot Italian oregano*
1 teaspoon freshly dried thyme*
1/2 teaspoon white pepper
4 large chopped carrots
3 tablespoons vegan butter
3 tablespoons white rice flour
2 cups vegetable broth
1 cup unsweetened coconut milk
1 1/2 teaspoons yellow Madras curry powder
1/4 cup pinot noir (I used La Merika 2011)
1/2 teaspoon sea salt
Sauté oil onion and garlic until just starting to soften. Add parsley, peppercorns, rosemary, oregano, thyme, and white pepper and heat through; add carrots and heat until they just beginning to tender. Melt in vegan butter and combine well. Quickly stir in rice flour, 1 tablespoon at a time, into mixture.  Alternate quickly stirring in small amounts of vegetable broth and unsweetened coconut milk until a creamy gravy forms. Add yellow curry powder, pinot noir, and sea salt and combine well. Turn off heat.
Assemble Pie
Preheat oven to 350 degrees. Spread carrot mixture over the bottom of an ungreased 8×10-inch baking pan. Crumble tofu over carrot layer. Spoon mashed potatoes on top and spread as evenly as possible.  Bake at 350 for 1 hour or until top of potatoes is crusty and golden.
*The flavors in this recipe are absolutely dependent on using fresh herbs. We grow most of ours or buy from a local farmer, but you can also find pretty good fresh, organic herbs in almost any sizable produce department. Dry in a dehydrator or, as we do, hang over the mantle by the woodstove for a day or so. Once you get used to using fresh and drying your own, you will never buy that stuff in jars in the grocery store again. Close second is to buy in bulk from a busy food co-op or natural foods market where turnover of goods is frequent.