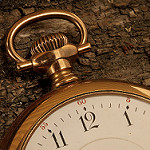 Launch day arrives. Since Friday, I've been  making myself available to chat virtually with my group of early readers. So far the question I've been asked the most about Jagged Edge of the Sky has to do with the handling of time. The book is structured according to point of view, leaving time more or less irrelevant to the telling of the story. One character, Melinda Panepinto, is said to be fifty-five in 1966, but forty years later she is still fifty-five. No time machine, yet there she is in black and white, plain as day, not aging a bit.
Which leaves us to wonder, is she real? Does she exist? Is she a figment in two people's imaginations? Is this book stupid? Was it an oversight on the part of the acquisitions team, the author, editor, and proofreader?
I prefer to think the answer comes down to Hegel's theory that "time is abstract subjectivity," which to me means time only exists in the imagination. It takes on the shape of its container. Which means, in the writing of fiction, time is not a path, but an interconnected series of dimensions, a fibrous progression of consequences that may or may not have anything to do with clocks and calendars.
Melinda must remain fifty-five if she is to play her role. That ancient wisdom has to come from somewhere. Is it possible she's the baby with the tread-marked skull?
Metaphorically, she is reflective of Martin—one way or another, she never moves on from the tragedies in her life.
The character of Melinda is also featured in an unfinished short story titled "Melinda Never Ages." In 2006, I was fortunate enough to land a writer-in-residence job for Fishtrap in Wallowa County, Oregon, near the Alp-ish Wallowa Mountains and Wallowa Lake State Park. I had just landed my first publication deal with a small college press and had quit my job as a contracted university professor to write a book I was calling The Failed Enlightenment of Martin Tuor, and which eventually was titled Jagged Edge of the Sky. Landing the gig was quite a coup. It gave me a cabin in the mountains for a total of four months, January through April. Snow on the ground when I arrived, and, definitely, magic in the air.
One of my first days in the county, I met and got to know a woman named Melinda, who was at the time about fifty-five, whose wisdom was so utterly in the rock-of-ages category that I wondered if she were a shaman, or an angel sent to guide me on this brand-new road I'd stepped out on. There was also another woman named Janie who was much older than she appeared and about whom people were constantly saying, "Janie never ages."
"Melinda Never Ages" didn't go beyond a few paragraphs, but Melinda did inspire the character of Melinda Panepinto in Jagged Edge of the Sky. The book had already been accepted for publication and was pretty far into production when I realized Melinda couldn't meet Jenny Kay in 1966 and Martin in the 1990s unless she was still working a full time job in her 80s, but she's clearly in fairly good shape and pretty much looks the same as she did when Jenny Kay meets her—until you stop to think about the fact that she's never described in fine detail. I considered making the appropriate changes, but instead, I left her just the way she had landed. I decided to trust my original instincts. She meets Jenny Kay in 1966. Martin when he reaches Idaho in the 1990s, and as far as the reader knows, she hasn't changed a pinch. I leave it to my audience to decide who she really is and what she represents.
Yesterday, under the guidance of the book's marketing manager at Booktrope, we initiated the launch festivities with a Thunderclap campaign. Thunderclap is a grassroots crowd-sourcing website that allows you to join forces with a vast sea of people whose goal is to help you spread the word about whatever it is you want to set afloat. In this case, we need 100 people to agree to allow the trailer for Jagged Edge of the Sky to appear on their Facebook, Twitter, or Tumblr feed one time and one time only at noon PDT, April 7. If you haven't yet seen the trailer, here it is once again.
I hope you'll help us out! We'd love to see it hit the one million contacts mark. All you have to do is go here, click where it says click, and for 2 minutes on April 7 the trailer for Jagged Edge of the Sky premieres all over creation!
As always, thank you for stopping in, and I hope you will stop in at your local bookstore or online retailer and ask for your copy of Jagged Edge of the Sky. If you like it—or if you don't!—we'd love to hear what you think.
photo credit: www.flickr.com/photos/19779889@N00/25333971474