VEGETARIAN JUNK FOOD (OR, THE DAY AFTER NATIONAL CHIP AND DIP DAY, Pt. 2)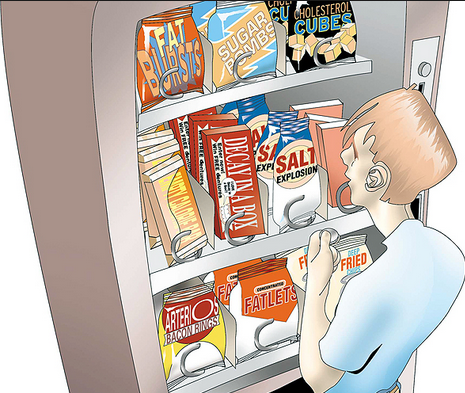 Lest you think that following a vegetarian or vegan lifestyle means giving up yummies, I decided that the day after National Chip and Dip Day might be a good excuse to share with you some of the ways Phil and I deal with the we-don't-want-to-cook evenings and the generic munchies—which is what we call those moments when you just have a need to chew on something. Yes, I do try to make myself go for things like fresh veggies or frozen fruit as much as possible, but let's face it, I am well-trained to comfort food, and old habits are hard, hard, hard to break.
First, I will just tell you out right that I will never give up Taco Time Mexi-Fries. Our regional Taco-Times are owned by a very cool guy, and his stores have great slow-food ambiance, and probably once a week Phil and I amble down for Veggie Salads with a side of Mexi-Fries with 3-alarm ketchup, which we make ourselves by stirring their hottest hot sauce into ketchup. Often this is a Saturday or a Sunday thing when we've been goofing off or working hard, and neither of us wants to expend the energy to even dream about creating in the kitchen, much less do it.
Then, there is popcorn, which we regularly—again, about once a week—whip up for dinner or snacks.
If you've been reading my site for a while, you know that I'm crazy curious about the investigation into the effect of medium-chain fatty acids on brain function and as an easily-digested source of long-term energy. It's easy to proclaim that I can notice a difference in my own sense of well-being from having switched almost entirely to coconut oil when fat is called for in recipes, but everything I try seems to improve my health just a tiny bit more, so it's hard to say.
The last bit of oil to leave our diet was the sunflower oil we used to pop corn (we do it ourselves, in a pan on top of the stove—infinitely superior to anything a machine can do, and we threw out the microwave last year). One night in recent weeks we were out of sunflower oil, and our food order—we order most of our food in bulk from a wholesaler—wasn't due in for a while, so I decided to try popping corn in coconut oil.
All I can say is, "Oh my!" We will never go back. Coconut oil produces the lightest, fluffiest popcorn I've ever eaten outside of maybe way-back-when movie popcorn, or the popcorn my father used to make, which was popped in—you guessed it—lard. The flavor is just barely reminiscent of coconut and the addition of sea salt and white pepper pushes it into the realm of gourmet. I confess that since we tried this new preparation method, we've been making it a lot more often than once a week, so be warned.
Then there is something called Maui Mix, which Phil and I created one day after we'd been for a long hike and had stopped at convenience store and paid way too much for a somewhat stale, inferior product. Maui Mix has the advantage of being so satisfying that you don't find yourself wanting to overdo. You can eat a handful or two and be done with it.
But the comfort-food, munchie-go-to we love the most is definitely Phil's Fabulous Three-Bean Nachos. We no longer use cheese, so we double the guacamole recipe and sprinkle a little nutritional yeast to get the cheese flavor, but the result is every bit of satisfying, and the comfort level is just insane. Please also remember that I do not advocate any brand, I only share what we like, and canned beans are worth having in the cupboard, just for those too-lazy-for-the-kitchen nights, which—admit it—even the most meticulous eater has.
The recipes: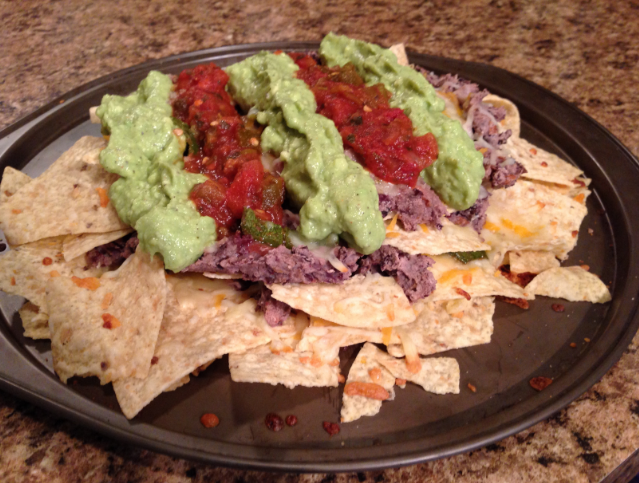 Phil'ʹs Fabulous Three-­Bean Nachos
Guacamole:
4 ripe Haas avocados
1 tablespoon mayo
2 tablespoons plain yogurt
2 tablespoons lime juice
Garlic granules
Tony Chachere'ʹs Original Creole Seasoning
Fresh ground black pepper
Mash avocado with a fork. Blend with yogurt, mayo, and lime juice until creamy and smooth. Add seasonings to taste. Cover and place in fridge.
Nachos:
1 15-­ounce can Natural Directions Kidney Beans
1 15-­ounce can Natural Directions Pinto Beans
1 15-­ounce can Natural Directions Black Beans
1 fresh jalapeno
2 tablespoons butter
1 teaspoon cumin
Kirkland Organic Tortilla Chips
Kirkland Organic Medium Salsa
2-­3 cups Tillamook Vintage White Extra Sharp Cheddar Cheese, grated
Preheat the oven to 325 degrees. Cook and mash beans in skillet until well blended. Split jalapeno in half, de-­seed at least half, then slice all into 1/4‑inch rings. In small skillet, melt butter and stir in cumin. Add sliced jalapeno, cook five minutes, and set aside. Spread a layer of chips on pizza pan, then top with a third of the grated cheese. Spread a layer of half the beans, then half the jalapenos over the chips and cheese. Add another layer of chips, another third of the cheese, the remaining beans, and the remaining jalapenos, then top with rest of the cheese. Bake at 325 degrees for 10 minutes or until cheese is melted. Top with salsa and guacamole.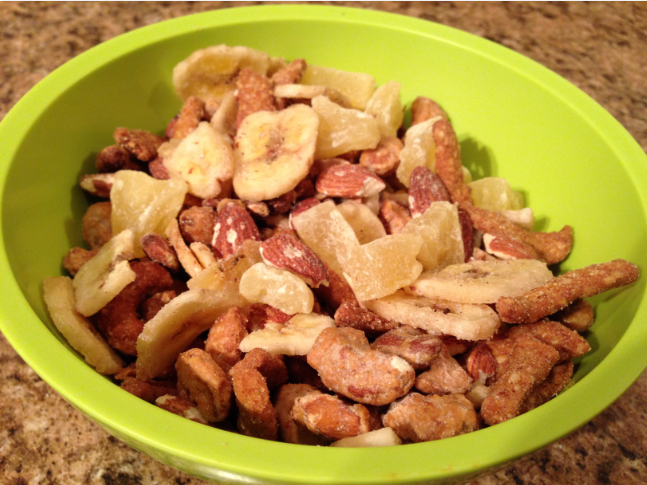 Maui Mix
2 cups dried pineapple pieces, chopped
2 cups banana chips
2 cups organic toffee peanuts
2 cups organic sesame wheat sticks
2 cups whole, raw almonds
Roast almonds on a baking sheet at 225 degrees for 2 hours. Cool then chop. Mix all ingredients. Store in sealed container.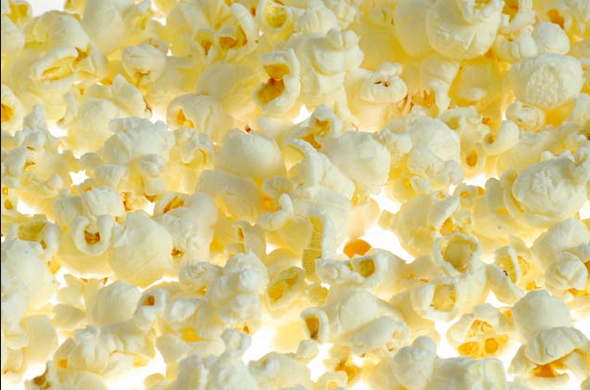 Coconut Popcorn
¼ cup coconut oil
½ cup popping corn
Sea salt
Ground white pepper
Heat oil and 3 kernels of corn in large pan on high heat. When kernels pop, add the remaining corn and cover with lid. When corn begins to pop vigorously, shake pan back and forth over the burner to keep popped corn from scorching. Remove from heat when popping is reduced to once every 3-4 seconds. Remove lid. Season to taste. Serve immediately. Makes enough for 2.
Opening graphic from http://oddlovescompany.com/2011/07/celebrating-junk-food-day/