CLEARWATER WRITERS CUSTOM WRITING PROGRAMS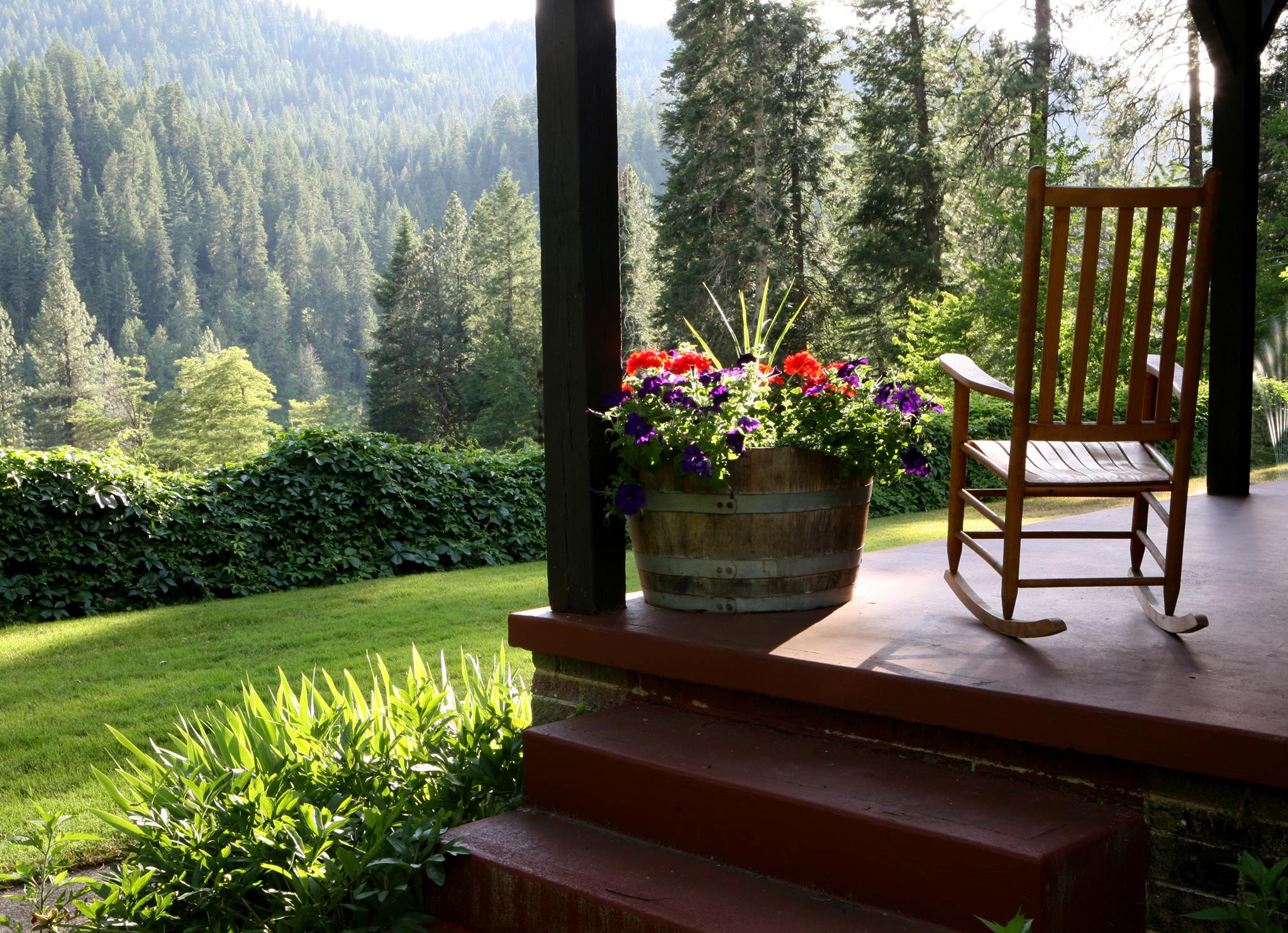 Reflections Inn is a beautiful B & B travel lodge 13 miles east of Kooskia, a small village in the foothills of the Bitterroot Range of the Rocky Mountains in North Central, Idaho.
About Clearwater Writers
Clearwater Writers is a retreat and workshop program facilitated by writer-in-residence Paula Marie Coomer and hosted by Jim and Ruth May, innkeepers at Reflections Inn. Initiated in 2013, the program's goal is to provide a place of quiet reflection and support for writers at all stages of their careers. Rooms have no televisions or phones. Cell phone and Internet service are limited.
What we offer instead is a beautiful, federally-designated, wild and scenic river with dramatic, timbered canyon walls, a flock of wild turkeys, herds of deer, the occasional mournful call of wolf or coyote. Not to mention bald eagles, osprey, and a pair of resident cats—one of which will do his best to hug anyone who stands in one spot for very long.
Accommodations
The Inn sits on ten wooded acres in the foothills of the Bitterroot Mountains and has been owned and operated by Jim and Ruth May since 1995. The location is remote but very accessible via the US Highway 12 Scenic Byway, Idaho's portion of the Lewis and Clark Trail. The route connects Lewiston, Idaho, and Missoula, Montana, providing travelers some of the most scenic landscapes in the west.
Amenities include 8 private, non-smoking suites (no smoking is allowed on the property) located in a separate guest building, which includes 2 fully-equipped kitchens and laundry facilities. Each suite includes a full bath, coffeemaker, and refrigerator, desk, sitting area, and all are beautifully decorated. Gathering areas, quiet sitting spots, a hiking trail, hot-tub, and BBQ grills are also a feature. Disability access is limited. Standing desk accommodations are possible, with advanced notice.
Information about the Inn's history, travel instructions, maps, and site photographs, as well as testimony of previous participants is available at www.reflectionsinn.com. For more information about Clearwater Writers, go to www.paulamariecoomer.com.
Meals and Food Service
Attendees are encouraged to bring ingredients for preparing their own meals. The Inn is 13 miles from the nearest mountain village and 20 miles over windy mountain roads to the next mountain village which does feature a small grocery store with somewhat limited choices. Over the course of time and experience gained, we have come to understand how much everyone being in the kitchen at once contributes to the deep connection people make during our programs, as well as the profound creative synergy that develops. With 2 well-equipped kitchens, there is plenty of space for everyone.
The situation presents interesting challenges for people travelling from out of state, so we have added a Food Service option, which translates to us filling the refrigerator, freezer, and cupboard with prepared foods and ingredients for quick meals. The Food Service option is $30 per day, and we can accommodate some—but not all—dietary issues.
Our other new feature for this year is the gentle suggestion that participants donate whatever amount they can afford so that our writer-in-residence receives a stipend. We so far have no other financial support; everyone involved has donated their time, and we've vowed to keep prices as low as possible so that deserving writers can afford to give themselves this gift of time, space, and support. We're hoping to have the best of both worlds with the donation system and also are hoping to have a few more donors so that we can offer scholarships. If you'd like to donate, contact Ruth May at innkeepers@reflectionsinn.com.
ALSO–I would love to create a custom workshop or retreat for your group!
Central to the new changes at Clearwater Writers is the enhancement and expansion of our custom retreats and workshops, which can range from bare bones to a guided exploration of the intricacies of craft. You simply recruit 3 – 5 writing buddies to join you, then decide what you'd like to learn. All programs are conducted by writer-in-residence Paula Marie Coomer. Read more about her here. Great program for both new and existing groups who are looking to push the boundaries of individual craft and group dynamics.
Contact Ms. Coomer directly at coom1286@hotmail.com or 509-295-8860 to schedule or for more information.
Custom Writing Workshop 

Sept.- May only

Instruction plus generative writing exercises and critique sessions

3 nights

$450 (plus tax)

Manuscript review up to 25 pages double-spaced add $50

Food Service add $90

4-6 participants 

Workshop options

Fiction writing—craft and study—all levels

Short story writing—craft and study—all levels

Novel writing—craft and study—all levels

Personal nonfiction—craft and study—all levels

21st century poetry—craft and study—all levels

Memoir/life story writing—craft and study—all levels
Custom Facilitated Retreats

Participants manage their own time; writer-in-residence open consult times daily plus consultation by appointment. Read more about retreats here.
Sept.- May only
3-5 nights
Groups of 5-6 preferable (this means the person booking the retreat is responsible for recruiting attendees or must understand if fewer than 4 people the Inn may take other guests)
Rates based on # of participants (call Paula at 509-295-8860 about rates)
Food service add $30 per day per person
Retreat options

with evening discussions add $25 per day per person
without evening discussions add $15 per day per person
Manuscript Consults (individual manuscript mentoring) (Sept.-May only)

You—just you—come and work with Ms. Coomer one-on-one to take that book project you've been sitting on for years from a stack of notebooks to an actual manuscript. If you already have a full manuscript, Ms. Coomer will guide you to take it to the next level or help you to prepare it for publication.

4 nights

Food Service add $120

Charge is $1200 per person (plus tax)

Follow-up manuscript review add $300